They call them QR Codes.
We call them e-Links.
You may have seen these funny-looking squares and wondered - what the heck?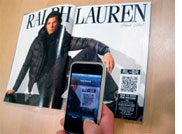 The "heck" is a new, effective way to make your printed material interactive. Our e-Links are Quick Response (QR) codes — two-dimensional bar codes that can be scanned with a smartphone using any free QR code scanning app.
When a smartphone scans a QR code e-Link on a brochure, ad, business card, store display, etc., it automatically links the consumer to your websites, to videos, to your phone number — to just about any type of interactive experience you want that consumer to have.
Yes, you heard straight... our e-Links make printed material "linkable" — finally connecting paper to a rich, interactive user experience.
What can e-Links do?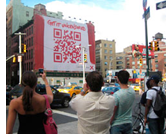 Only your imagination and your business objectives will limit how you can use your own e-Link code. Companies have placed them in magazine ads, catalogs, food packaging, posters, business cards, e-mails, websites, t-shirts and even on the sides of buildings!
Put e-Links anywhere your customers will see them and scan them with their smartphones!
Let's look at a few options of what can be encoded into that funny e-Link square:
A website or a variable, unique landing page
An informational or instructional video
Contest details and entry
Dial a phone number automatically
Download contact information automatically (vCard)
Register for an event
Get a coupon
Receive a text message
Listen to music soundtracks
View a menu and make reservations
Take a listed property's virtual tour and get property details
Access loyalty program special offers not accessible from any other source
See movie times and theatre locations
Scan a store sign to purchase products,
obtain product information and reviews
What makes e-Links so valuable?
When you place an ad in a magazine, you don't really know if you're reaching your potential consumer. With printed materials, the interaction often ends with viewing.
Beyond the pizzazz of a cool tech tool, hosted QR code e-Links are hard working marketing tools that help you quantify the results of any campaign. The campaign microsite or landing page records and tracks how consumers are engaging with your offer.
Want to change the offer? No need to reprint your material if it has a hosted QR code. We'll change your landing page content and you'll continue to engage that consumer in a new ways!
Heard enough? Contact us and let's talk about how e-Links can help your business!